PROGRAM DESCRIPTION
This program has been reviewed and approved by PTIB.
This diploma program focuses on preparing you to work in the hospitality industry. It will give you a solid theoretical and practical foundation, in the application of current industry tools, procedures and practices, including basic industry accounting, managing food and beverage services, and front office and house keeping operations. You will be able to apply skills in a co-op work experience setting.
CO-OP
The paid Co-op work experience placement is an integral component of the Hospitality Management with Co-op Diploma program that will provide students with real-world experience in a Canadian business environment.
OVERVIEW
Program Length*
Full Time
Total 38 weeks
20 Hours per Week
*Program Length does not include breaks and holiday breaks
Co-op Length
Delivery Method
Blended Delivery: the program delivery is a combination of on-site and distance delivery.
Admission Requirements
High school graduate or equivalent
or
Mature student status (British Columbia 19 years or older)
Meet the College's English proficiency requirements
Credential Upon Graduation
Hospitality Management Diploma
Note: Program graduates who have successfully completed AHLEI exams will be eligible to receive an AHLEI "Hospitality Management" diploma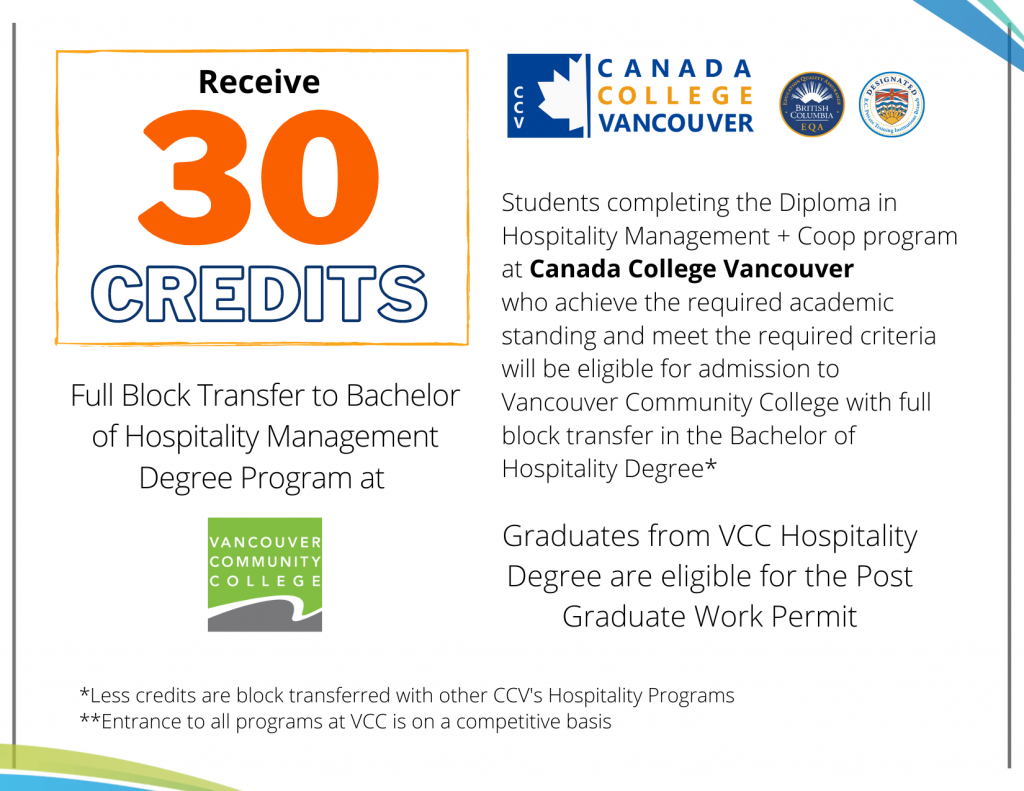 Career
Opportunities
Career opportunities in hospitality are growing steadily as the industry continues to boom and evolve
Hotels & Resorts
Events & Conferences
Cruise Ship Industry
Food & Beverage
Hospitality
in Canada
*1.7 million jobs in Hospitality Industry is a Major Source of Employment
*1 out of 11 jobs in Canada is directly involved with travellers
Source: Tourism Industry Association of Canada
*The number of employment in the accommodation and food services industry reached 185,000 in 2018. There will be a total of 61,000 new job openings by 2028
Source: British Columbia Labour Market Outlook: 2018 Edition pg. 52
Hospitality
Industry
The hospitality industry offers a wide range of career options for individuals with the proper training. Strong work ethic, dedication to quality service and an outgoing personality are part of the skill sets that potential employers are looking for. It's a growing employment sector that offers security and opportunities to advance in a career for the future