Why Take ESL Courses at Canada College Vancouver?
April 24th, 2018 By admin
If you intend to live and work or study in most of Canada, you must have a competent grasp of the English language. This can seem overwhelming to somebody who does not speak English as their first language. However, with the right training, facilitated by qualified teachers, anybody can learn English.
At Canada College Vancouver, it is our mission to offer some of the best ESL courses in Vancouver and Canada. If you or somebody you know would like to take an ESL course in Canada, we encourage you to choose to take it at Canada College Vancouver for the following reasons: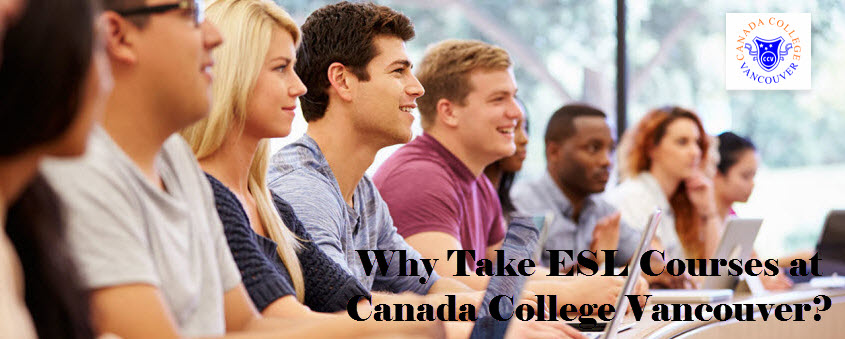 Different Levels
At Canada College Vancouver, we offer ESL courses in Vancouver for those at different levels who are looking to learn. Take part in our pre-intermediate, intermediate, and upper intermediate ESL courses in Vancouver, depending on your current level. What is great about the variety of levels is that when you complete one, you can look to taking the next level immediately, or whenever you are ready. We will be able to examine you and let you know which ESL course in Canada you should begin with, so that you can learn at the appropriate and most efficient pace.
Excellent Teachers and Facilities
We have some truly amazing professionals teaching our ESL courses in Vancouver. All of our ESL courses at Canada College Vancouver are helmed by teachers with many years of English teaching experience. Our staff are conscious of all of our students' language learning needs, from basic speaking, listening, reading, and writing at the beginning, to more complex grammar when you reach upper intermediate level.
As well as excellent staff members, Canada College Vancouver also boasts top notch facilities. We like our classroom environment to be a home away from home for our ESL students. Our classrooms are designed for learning, but also fun and getting to know others. These classrooms are located at a city centre location that could not be easier to reach by transit or car.
Great City
As we have already mentioned, the ESL course Canada at Canada College Vancouver is located in the heart of Downtown Vancouver. You will soon learn that this is a thriving environment to be in. Downtown Vancouver is an amazing neighbourhood in which to be studying. There are great views and architecture, as well as plenty of cafes, restaurants, and bars to check out after class, and, of course, practice your English in! On the weekends, you can take day trips to the local mountains to hike in the summer, or ski in the winter. Vancouver is a city with a large international population, so you will be in good company as you undertake ESL courses in Vancouver and your English-speaking future in Canada!
For more information on what your ESL course Canada covers at Canada College Vancouver, check out the program outlines on our website. We also welcome prospective students to give us a call or drop into Canada College Vancouver anytime.